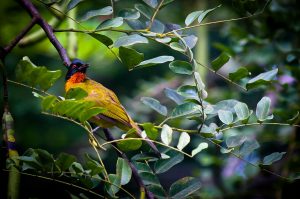 Cucak kuning (Pycnonotus melanicterus) adalah sejenis burung pengicau dari suku Pycnonotidae. Burung ini juga dikenal umum sebagai kutilang emas, pecampeor atau tempuruk kunyit, sementara dalam bahasa Inggris bernama Black-crested Bulbul, sesuai dengam warna jambulnya yang hitam. Spesies ini mengalami penurunan pada saat ini. Cucak Kuning tersebar di benua India, Asia Tenggara, Cina Selatan hingga Sumatera, Kalimantan dan Jawa. Biasanya Cucak Kuning hidup di hutan hujan, tetapi biasanya di tepi hutan. Tapi biasanya di Sumatera, Cucak Kuning ditemukan di dataran rendah dan perbukitan sampai pada ketinggian 1.200 m.
The black crested bulbul (Pycnonotus melanicterus) is a type of bird from the Pycnonotidae family. This bird is also commonly known as the golden finch or pecampeor. The number of this bird is in decline at the moment. This particular bird can be found in many continents such as India, southern asia, south china, sumatra, Kalimantan and Java.
This is a bird of forest and dense scrub. But in the island of sumatra, this bird can be found in the lowlands and hills up to an altitude of 1,200m.
Latin Name : Pycnonotus melanicterus
Common Name : Black-crested Bulbul
Local Name : Burung Cucak Kuning